Please visit our website to see if anyone is searching for you:

An American-Thai child

Teelock (girlfriend)

Thai base/camp employees

Thai friends or acquaintances
Welcome to all Seri Court personnel!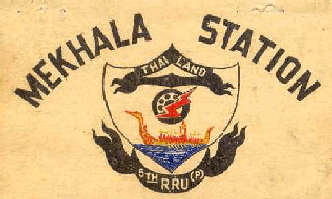 Home of the 5th RRU & 83rd RRSOU
Click on the 83rd RRSOU link
Welcome all Seri Court personnel! I took these photos on January 23, 2003. I returned back to Seri Court because I had heard that the owners of Seri Court were not sure if they were going to demolish or remodel the facilities sometime in 2004. I wanted to capture Seri Court on photos one last time before the work began. Part of our military history may be gone soon!
I was told that Seri Court became a "Sliding Curtain" motel soon after the Americans vacated Seri Court. The swimming pool was soon re-filled with dirt to make room for more "Sliding Curtain" parking slots and rooms. The dining facility was also removed and parking slots and rooms were also added there. The bottom floor of the building (barracks) directly in front and to the left of the Headquarters buliding was converted to make more parking.
The only 3 buildings remamining today are (as you come through the main gate) the barracks # 1 (horizontal). Continue past & under that barracks and you have barracks # 2 on the right and the last building is the HQ building.
All of the plumbing and electrical wiring in all of the rooms has been removed and scrapped. The old water tower was also removed recently. The place looks really sad as I walked through the entire grounds. Many memories were left behind at Seri Court.
I will pass any new information as to the future of the 3 remaining buildings. I plan to make frequent stops throughout the year to Seri Court to take more photos of the facilitiy. The HQ building is locked up and couldn't get in. Will keep trying on my visits. I hope all you Seri Court personnel enjoy the photos.
Last Update May 21, 2003
Seri Court continues to be gutted out. Workers have begun removing the electrical wiring in the rooms. The Water Tank is now gone! The owners of Seri Court have hired live-in Security personnel to keep watch over the buildings and property. The fate of Seri Court is still unknown at this time. If I had the money to buy the property, I definatley would! I'm still in search of the "Palace & Glass Houses" that were located in town.
Photo Taken January 23, 2003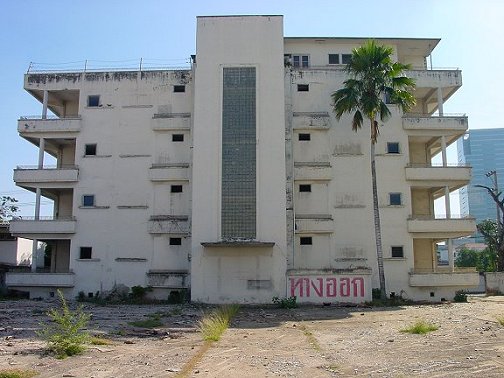 View of the Headquarters Building

Thanks for visiting and be sure to get in touch and let us know what you think of our site!
Please share your comments by signing my guestbook
Thank You